Medical disposable plastic sterile vacuum blood test tube
| | |
| --- | --- |
| Unit Price: | 0.1~0.1 USD |
| Min. Order: | 5000 Piece/Pieces |

| | |
| --- | --- |
| Productivity: | 5000pieces/Day |
| Brand: | huaxia |
| Place of Origin: | china |
| Supply Ability: | 5000pieces/Day |
| Port: | Shanghai |
Product Description
product description
1. The disposable sterile serological pipette adopts a humanized design and a snap-on safety helmet to effectively prevent blood leakage. Because of its multi-tooth double-directional structure, it is convenient to transport, simple to operate, and no blood splashes.
2. The color coding of the safety helmet of the blood medical pipette complies with international standards and is easy to identify.
3. The edge of the nozzle of the disposable sampler is designed to protrude, which is convenient for the user to shovel blood into the tube. Simple, fast and intuitive, with clear blood volume readings and clear graduation lines.
4. Special treatment inside the tube, smooth surface and no blood stains.
5. Barcodes can be customized, and gamma rays can be used to sterilize the tubes according to customer requirements to achieve sterility testing. h Poisonous or special smell. Avoid direct contact with fire sources and flammable and corrosive substances.
The classification of vacuum blood collection tubes and the meaning of different color test tube caps
1. (Ordinary serum tube)-red cap, no additives in the blood collection tube, used for routine serum biochemistry, blood bank and serology related tests.
2. (Quick Serum Tube)-Orange red head cover, blood collection tube with coagulant, which can activate fibrinase, turn soluble fibrin into insoluble fibrin polymer, and then form a stable fibrin clot. The rapid serum tube can coagulate the collected blood within 5 minutes, which is suitable for serialized emergency serum test.
3. (Inert separation gel coagulation accelerator tube)-golden cap, inert separation gel and coagulant are added to the blood collection tube. After the specimen is centrifuged, the inert separating gel can completely separate the liquid components (serum or plasma) and solid components (red blood cells, white blood cells, platelets, fibrin, etc.) in the blood and completely accumulate in the center of the test tube to form a barrier. The specimen is within 48 hours keep it steady. The coagulant can quickly activate the coagulation mechanism and accelerate the coagulation process, which is suitable for emergency serum biochemical tests.
4. (Heparin anticoagulation tube)-Green head cap, with heparin added in the blood collection tube. Heparin directly has the effect of antithrombin, which can prolong the clotting time of the specimen. It is suitable for red blood cell fragility test, blood gas analysis, hematocrit test, erythrocyte sedimentation rate and general energy biochemical determination, but not suitable for blood coagulation test. Excessive heparin can cause the accumulation of white blood cells and cannot be used for white blood cell counting. It is not suitable for white blood cell classification because it can stain the blood slice with a light blue background.
5. (Plasma separation tube)-light green head cover, adding lithium heparin anticoagulant into the inert separation tube, can achieve the purpose of rapid separation of plasma, it is the best choice for electrolyte testing, and can also be used for routine plasma biochemical determination and ICU Waiting for emergency plasma biochemical testing. Plasma samples can be directly placed on the machine and kept stable for 48 hours under refrigeration.
6. (EDT aviation coagulation tube)-purple head cap, ethylenediaminetetraacetic acid (EDTA, molecular weight 292) and its salt is an amino polycarboxylic acid, which can effectively chelate calcium ions in blood samples, chelate calcium or Removal of the calcium reaction site will block and terminate the endogenous or exogenous coagulation process, thereby preventing the blood specimen from clotting. It is suitable for dry general hematology test. It is not suitable for coagulation test and platelet function test. It is also not suitable for calcium ion, potassium ion, sodium ion, iron ion, alkaline phosphatase, creatine kinase and
Leucine aminopeptidase determination and PCR test.
7. (Sodium citrate coagulation test tube)-light blue cap, sodium citrate mainly acts as an anticoagulant by chelating with calcium ions in the blood sample. It is suitable for blood coagulation experiments. The anticoagulant concentration recommended by the National Committee for Clinic al Laboratory Standards (NCCLS) is 3.2% or 3.8% (equivalent to 0.109mol/L or 0.129mol/L). The ratio of coagulant to blood is 1:9.
8. (Sodium citrate erythrocyte sedimentation rate test tube)-black head cover, the sodium citrate concentration required for erythrocyte sedimentation rate test is 3.2% (equivalent to 0.109mol/L), the ratio of anticoagulant to blood is 1:4.
9. (Potassium oxalate/sodium fluoride)-gray head cover, sodium fluoride is a weak anticoagulant, usually combined with potassium oxalate or sodium diiodate, the ratio is 1 part of sodium fluoride, oxalic acid 3 parts of potassium. 4mg of this mixture can prevent 1ml of blood from coagulating and inhibit sugar decomposition within 23 days. It is a good preservative for blood glucose determination. It cannot be used for the determination of urea by the urease method, nor is it used for the determination of alkaline phosphatase and amylase. Recommended for blood glucose testing.


PRODUCT INFORMATION
| | |
| --- | --- |
| Product name | Disposable medical hospital clear sample blood-collecting vessel |
| Type | Micro Blood Collection Tube |
| Color | Transparent tube with color cap |
| Volume capacity | 0.25ml/0.5ml |
| Additive | EDTA.K2 |
| Qty in bag | 500 |
| Usage | Blood Collecting |
| OEM | Available |
Product Overview
1. This type of micro blood collection tube has humanized design and snap sealed safety cap, the tube can effectively prevent blood leakage. Owing to its multi-dentation and double orientation structure, it's convenient for safe transportation and simple operation, free of blood spatter.
2. The color coding of safety cap is consistent with International Standard, Easy for identification.
3. Salient design for the edge of the tube mouth is easy for users shoveling blood into the tube. Simple, fast and intuitionistic, the blood volume can be easily read with clear graduation line.
4. Special treatment inside the tube, it's smooth on the surface with no blood adhesion.
5. Can customize barcode, and sterilize the tube with gamma rays as per clients' requirements to achieve asepsis testing.h poisonous or special smell. Avoid direct contact with fire sources and inflammable and corrosive substances.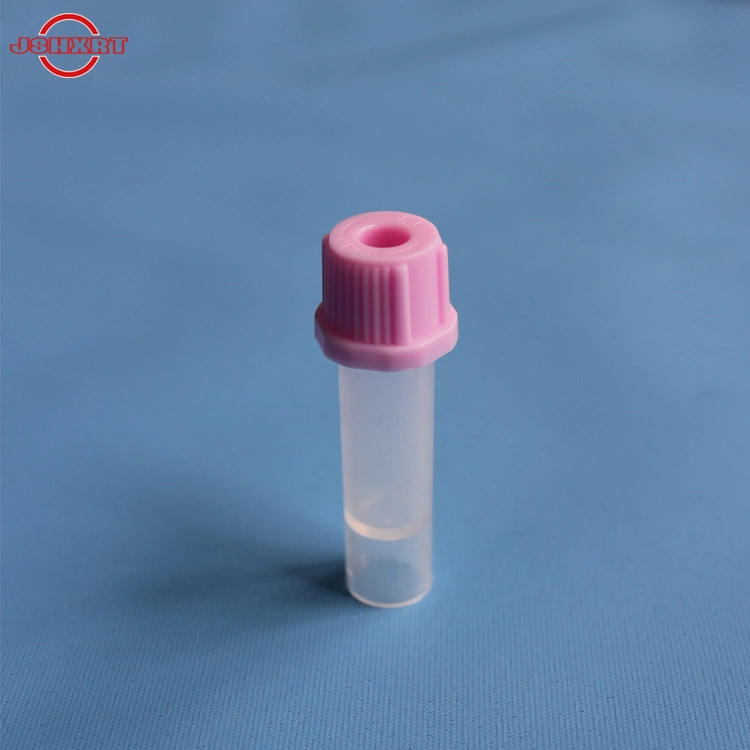 Jiangsu Huaxia Ruitai Medical Equipment Co., Ltd. was established in 2013. The company is located in the Modern Science and Technology Industrial Park, Jiangyan District, Taizhou City, Jiangsu Province. It is a high-tech enterprise engaged in the research and development and production of disposable laboratory inspection consumables, cell culture, molecular biological consumables and laboratory auxiliary instruments. Mainly engaged in centrifuge tubes, flocking swabs, cell culture dishes, virus sampling tubes, single-use virus samplers, single-use virus sampling tubes, spit liquid collector, spit liquid collector, automatic extractor, and automatic nucleic acid The company occupies an area of 30,000 square meters for extractors and other products. It has standard workshops, complete production equipment, a good production environment and a group of high-quality production, technology, and management personnel, and has formed a complete quality assurance system.
The company always takes "R&D and innovation, pursuit of quality" as its corporate purpose, focusing on laboratory testing consumables, cell culture, laboratory auxiliary equipment and other fields, focusing on continuous innovation and development, improving product technology content, enriching product categories, and achieving product upgrades. Enhance the core competitiveness of enterprises.
Huaxia Ruitai regards product quality as the vitality of the company, and has established a complete set of strict internal quality control system in accordance with international quality standards to conduct batch-by-batch quality inspection from raw materials to finished products, focusing on the production of high-quality products attentively, ensuring the authenticity of experimental testing data Effective and cost-effective make products more competitive.
At the same time, Huaxia people are constantly strengthening the systematic training of employees, continuously enhancing the optimization of customer service, and truly focusing on quality and service to create more customer value. Huaxia people are willing to cooperate sincerely with people from all walks of life, and will continue to work with more industry elites in a solid and solid manner, and do their responsibilities for the health of all mankind.
Company Name: Jiangsu HXRT MD Co.,Ltd
Representative: chen chun hua
Product/Service: Disposable Swab , VTM Tube , Saliva Collection Kit , Extraction Tube , Blood Collection Tube , Cryo Tube
Capital (Million US $): 20000000RMB
Year Established: 2013
Total Annual Sales Volume (Million US $): US$5 Million - US$10 Million
Export Percentage: 31% - 40%
Total Annual Purchase Volume (Million US $): US$5 Million - US$10 Million
No. of Production Lines: Above 20
No. of R&D Staff: 5 -10 People
No. of QC Staff: 5 -10 People
OEM Services Provided: yes
Factory Size (Sq.meters): 10,000-30,000 square meters
Factory Location: No.66 Xingyuan Road, the Modern Science and Technology Industrial Area,Jiangyan District, Taizhou City,225300, Jiangsu, China
Contact Person: Ms. Vivian
Tel: +86-0523-88310598